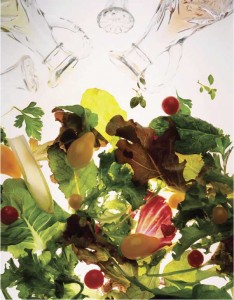 Lettuce salad, as opposed to pasta or potato salad, has three basic ingredients: the type of lettuce, the salad dressing and the salad toppings. Ingredient ideas for lettuce salad can be arranged to make hundreds of different salads.
Change one ingredient and you'll have a new flavor and a new recipe. That's why there are so many cookbooks out there.
Knowing some basic combinations of types of lettuce, salad dressings and a list of salad toppings, you'll have an endless supply of ideas and recipes.
THE TYPE OF LETTUCE
Not all lettuce is created equal. The different types of lettuce and salad leaves vary greatly in flavor and nutritional value, both key ingredients for making a better lettuce salad.  A general rule is the darker the green of lettuce and salad leaves, the higher in fiber, flavor and nutrition. Personalize your salad mix for nutritional value and  taste and flavor.
A popular gourmet blend is mesclun or Spring Mix for its color, texture, flavor and nutritional value. Works well with most dressings and vinaigrettes.
Still stuck on iceberg? Mix it 50/50 with romaine lettuce to boost up the flavor and nutrition.
Romaine is known for caesar-style salads and works well with creamy dressings.
Although spinach is not a lettuce, it is a powerhouse in nutrition and flavor.
THE SALAD DRESSING
Using fresh ingredients is synonymous with a salad yet the most obvious is often overlooked–the dressing.  After all, without the dressing, it is just a plate of lettuce. A poor choice of salad dressing can turn a healthy salad into a fat-laden junk food (Unhealthiest Salads in America). A good salad dressing brings flavor without overwhelming the remaining ingredient ideas. Change the dressing and you change the flavor whether it's sweet, savory, zesty, or creamy.
Most gourmet salad recipes and salad dressing recipes have one common ingredient: extra virgin olive oil (EVOO). The best balsamic dressing recipe has two: EVOO and aged Modena Balsamic.
A homemade balsamic viniagrette works well with most types of lettuce and salad topping ingredients.
A LIST OF SALAD TOPPINGS
Below are some popular combinations from a list of salad toppings by type of salad dressing:
Balsamic, raspberry, apple cider, blackberry, orange or strawberry viniagrettes:
strawberries, bleu cheese and walnuts/pecans
chicken, strawberries/grapes/apples and pecans
apples/pear, dried cranberries, feta and almonds/pecans
blueberries, chevre and pecans
black olive, kidney beans, cucumber, romano
Red wine, roast pepper and roast shallot, cucumber or cilantro viniagrettes:
greek olive (kalamata), cucumber,  tomato and feta
chicken, artichoke, roasted red pepper and feta
marinated italian olive (black or green pitted), mushroom, artichoke
Creamy sweet dressing: poppyseed, papaya poppyseed,
Creamy tangy dressings
RELATED LINKS:
Types of lettuce by nutritional value and flavor
Types of lettuce for popular salad recipes
Identifying types of lettuce and salad leaves